It's been a really busy late summer at the Farm.  Since Open Farm Sunday and the Orsett Show, we have done the local "Party in the Park" and event at Mill Meadow, Billericay.  We have made quite a few new products, all of this culminating with our customers nominating us for the Essex Life Food and Drink Awards 2018.   We were very honoured to attend the Awards on the 27th September and absolutely delighted to win the Best Newcomer category. We were pleased, but very surprised, to be one of the three finalists for Best Essex Producer in only our second year. It was a bit strange to see video footage of ourselves on screen during the presentations, but it was a lovely evening attended by quite a few of the farm shops and restaurants that we deliver to. If you will spare us the indulgence, we've added quite a few photos of the evening and afterwards.
A rarity to be out in our posh frocks, rather than wearing hairnets.  From the left below – Clare, Carol and Lynnette.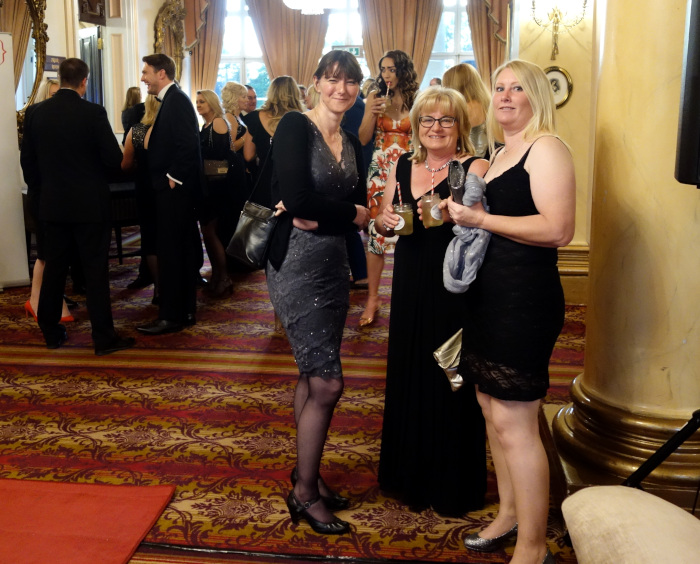 The view from our table.  Scarily large screen.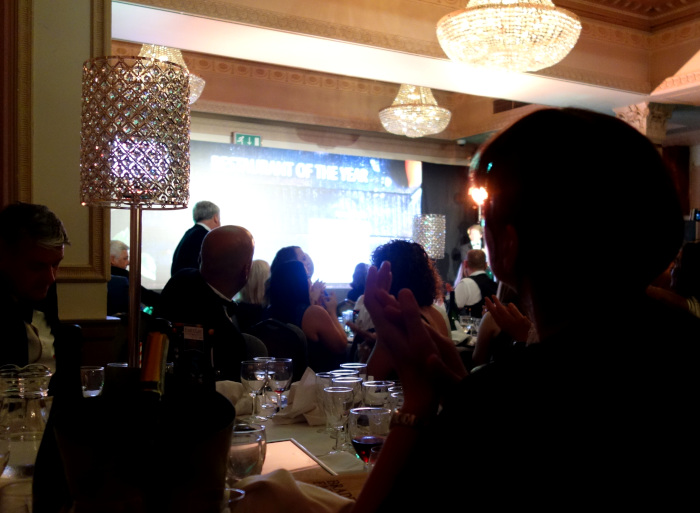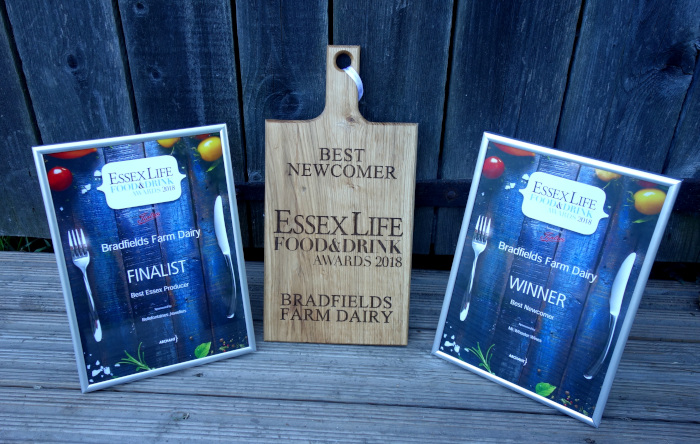 With our awards and banners outside the dairy shop – Lynnette, John, and Clare with William and Chelsea who do the proper work looking after the cows.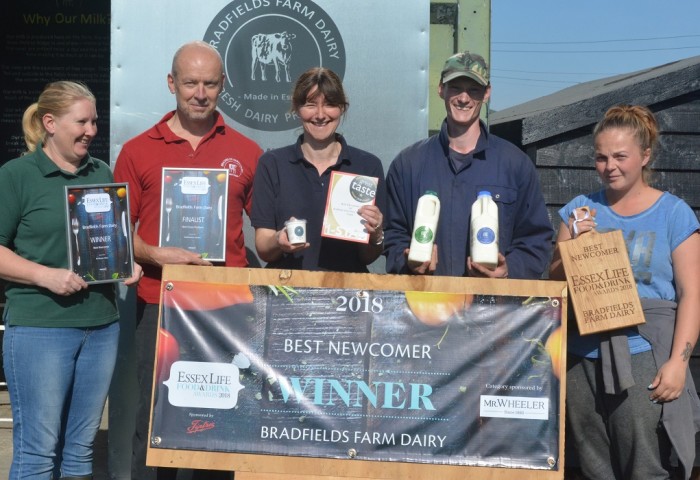 We are also delighted to have been awarded a Great Taste star for our Bradfields Farm Extra Thick Cream in this year's competition. Receiving a one-star rating means judges dubbed our cream a food that delivers fantastic flavour, simply delicious. The cream is always on sale at the Farm and has also been on the menu for delicious cream teas at The Barn Restaurant at RHS Garden Hyde Hall.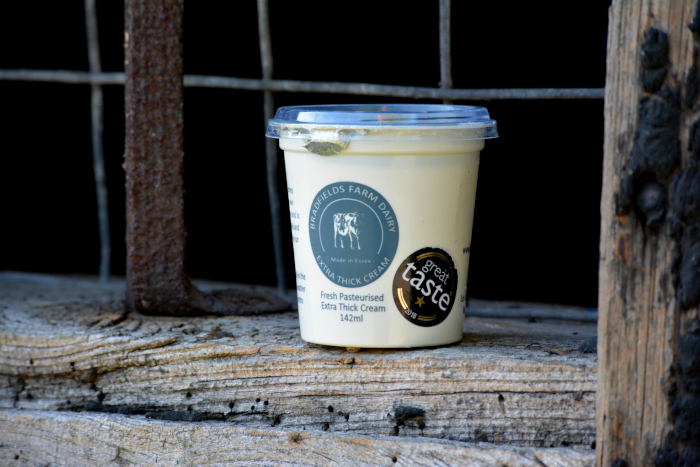 For some time we have been trialling and testing Crème Fraiche, made from our thick cream. We have now settled on a recipe and have small pots for sale. These are 142ml, the same size as the extra thick cream.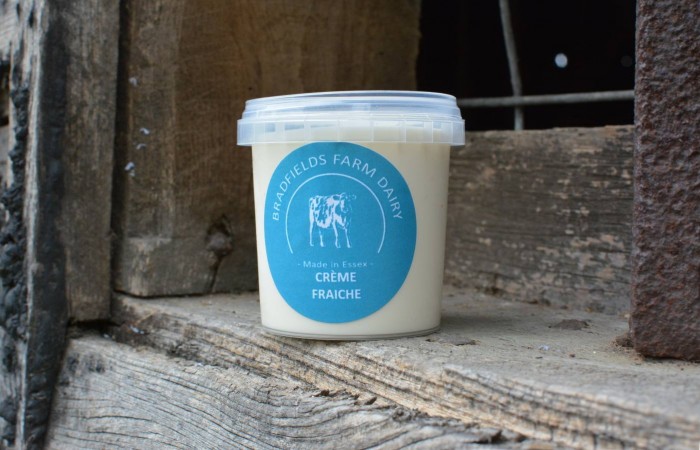 We now have the new printed bottles for our probiotic drinking yogurts and milkshakes.  We are looking into options to get these products on sale regularly in our Dairy Shop.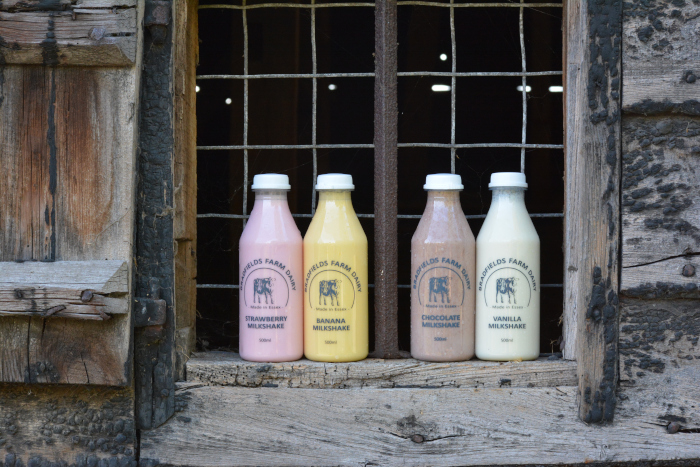 We will probably need a new vending machine for this so do bear with us.  Meanwhile the Crème Fraiche, probiotic drinking yogurts and milkshakes are available by pre-order so do let us know if there's anything that you would like.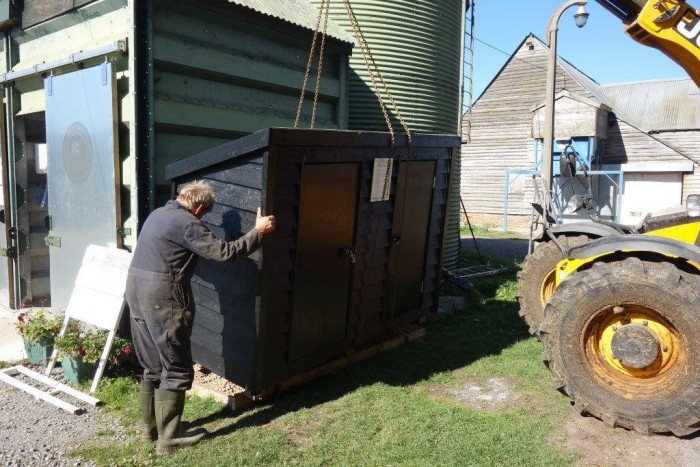 The Farm is now a collection point for Sarah Green's Organics Vegetable Box Scheme. This is a weekly delivery of a wide selection of seasonal organic vegetables grown on their Farm in Tillingham.  Sarah delivered their lovely collection shed last week, it has now been forklifted into position and is now being used to store the vegetable boxes, ready for collection. You can pre order online at the Sarah Green's Organics website, so why not check out what they have and register with them. Simply order your veg or veg box via their website and it will be delivered to the collection shed on Friday for collection for you to collect whenever suits you. The boxes can be collected during dairy shop open hours 8am to 6pm.
Meanwhile, out in the fields, the occasional downpour and the lovely recent sunshine has meant that there is some nice fresh grass growing for our girls to eat.