Spring 2020 Newsletter
Welcome to our first 2020 Newsletter and apologies for the long wait since the last one.  We will catch up on everything that has happened over the last year up to and including the effects of us of the changed times that we now find ourselves in.
In this Newsletter
 

- Our Third Birthday - New Produce in the Dairy Shop - New cafes and shops - Local deliveries - London - Mobile glass bottle refills - On the Farm

 

Our Third Birthday

We will start with something nice. On the 1st March, Bradfields Farm Dairy was 3 years old!  We celebrated at the farm on the Leap Day weekend 29th February and 1st March.  Thank you to everyone who came along, especially those that braved the stormy weather on the Saturday.  We hope that you all enjoyed the coffee and birthday cake, had a good time and enjoyed the local produce from the other stalls including local bread, pork, sausages and handmade truffles.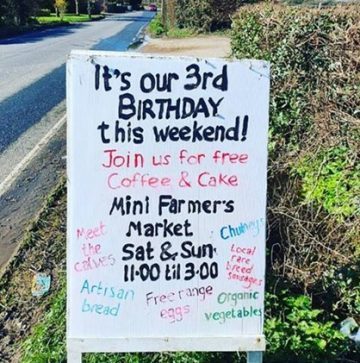 New Produce in the Dairy Shop
You may have noticed that our Dairy Shop doubled in size in February and we have a large new vending machine to go with it.  The new machine is fully stocked with all of our products, including items that we could not fit in the older vending machine, such as bottles of probiotic drinking yogurt and of milkshake – all in a variety of flavours of course.  In response to customer demand, we also had a small supply of fresh free range farm eggs available for purchase in a our old rotary vending machine.  Unfortunately, these are not currently available, but we will reinstate them as soon as we can.
The Shop continues to be open to the public every day although, like all shops now, the use of it has changed in accordance with the social distancing rules explained on the notices outside.  We are keeping the shop well stocked so you should be able to find what you need, every day 8.00 til 6.00.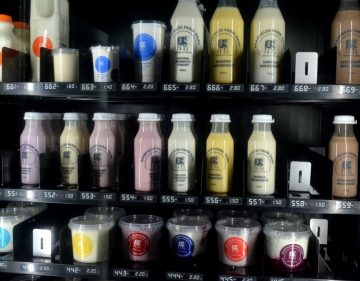 When the world gets back to normal, post lockdown we have a number of future plans for the shop and further products from other suppliers.
We intend to be a collection point for Flour and Spoon artisan bakery.  Based in Leigh on Sea the bakery makes a variety of sourdough bread, pastries and bagels, which you will be able  order for collection from the farm on Sundays.  So if you would like to have really fresh, tasty bread for Sunday collection then please let us know and that can start when we can.
You should also be able to place orders for chocolates by Roding Valley Fine Foods for collection.  Liz makes beautiful chocolate truffles using Bradfields farm cream.  If you have a special person in mind, or a special occasion.
For the Dairy Shop, we are considering a good quality self service coffee machine.  If that is something that our customers might like to have available, we welcome your thoughts on this 
New cafes and shops
We now supply our dairy products to several new places to the north of Chelmsford.  Last summer we started supplying Dore's Kitchen- a cafe in High Roding, near Great Dunmow.  Russell Dore is looking to source all his cooking ingredients from Essex suppliers and we are glad to be part of that.  At present Russell isn't able to operate normally but is currently a bakery supplying products and supplying our milk to his local customers on a shop basis.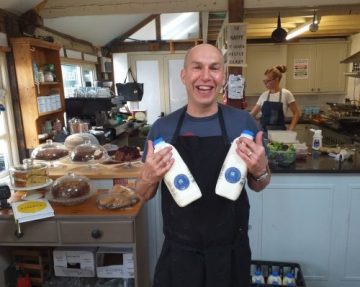 Also north of Chelmsford we have supplied products to Cammas Hall Farm on the Hertfordshire/Essex border and also to Deersbrook Farm near Braintree since last summer.  Recently, we started supplying Blackwells Farm Shop near Coggeshall, Colchester. 
The farm shops that we deliver to are experiencing unprecedented levels of demand.  We have been working flat out since the middle of the month to provide what the locals are now demanding from those shops as they make their short, essential trips. A lot of milk but Mooberry (our small van) is doing her best!  We have been been able to provide what has been needed so far and will continue to strive to do so.
Local deliveries
Some of the shops that we deliver our products to do local deliveries for those currently in isolation.  To our knowledge deliveries are being carried out by:
Flour and Spoon Artisan Bakery in Leigh on Sea deliver every Friday, including our milk, to the Southend area as far as Benfleet. All orders are via their website at www.flourandspoon.com and are contactless delivery only – you need to leave your phone number.

Lathcoats Farm shop in Baddow

Jamie's Fruit and Veg Box in Bicnacre

Stockbrook farm shop in Stock

Deersbrook Farm, Littles Lane (Braintree area).
London
Last year started with new ventures into London as we expanded to attend two weekly Saturday markets – at Pimlico and at Wimbledon, taking us out of our comfort zone and expanding what we do.  Our first ones were on Saturday 2nd February 2019.  From last May we have also been going to the Parliament Hill farmer's market by Hampstead Heath, making three London markets every Saturday and one (Blackheath) each Sunday. It's a lot of work but our products are well appreciated at these markets too. 
While the local (mainly indoor) markets are currently closed, the weekly outdoor London Farmer's Markets are currently continuing. However, from the weekend of the 4th/ 5th April, we have made the decision to take a break from the London markets for at least the next week and probably beyond that. Of course, we want to keep serving our customers with their weekly essentials, but have also to be aware of the potential risks, both to them and to us.  We will miss our customers but hope to be back there soon. We will post on the this page and on Facebook with any updates about what we are able to do when.
Mobile glass bottle refills
We have been doing mobile glass bottle refills at the new markets.  We have been bringing our reusable glass bottles to the markets in a bid to reduce plastic waste.  We keep our milk in an insulated box with a tap so that it nice and cold for the customers – a smaller, low tech version of the one at the farm.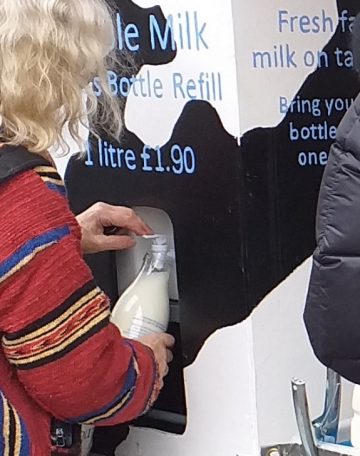 On the Farm
Many things carry on much as normal at the Farm with the daily routine of milking and feeding. The cows are, of course, oblivious and looking forward to going out very soon onto the grass for the summer. The ground is firming up nicely now that the earlier rains have reduced and there is lots of fresh grass out there in the fields.  For humans it's a different matter and we are trying to protect the farm staff as much as possible so are ask customers not to approach the farm staff, as it would bring everything to a halt if they were to fall ill.
Take care in these strange times.  
Thanks for reading this.  We hope that you have enjoyed it.  Do get in touch with us about any ideas, comments or questions
---
To cancel click here, to edit your subscription click here.